Practice Areas:
Partner specialising in serious injury work for Claimants. Considerable experience acting in all types of personal injury work including clinical negligence, major catastrophic injury/disability, and notably spinal injuries. Settled spinal case this year for £4.1 million. Particular interest in industrial disease claims, acting for victims of asbestosis and mesothelioma. Reported Court of Appeal cases include Anderson v Newham College of Education on contributory negligence.
Professional Memberships:
The Law Society; APIL Accredited Fellow and Secretary for the Environmental SIG, APIL; PEOPIL; Multidisciplinary Association of Spinal Cord Injury Professionals (MASCIP)
Publications:
JPIL, Hospital Medicine, The Psychiatrist, Contributor to Jordan's APIL Personal Injury Law, Practice and Precedents. College of Law media video: personal injury fatal accident claims. Regular presenter.
Career:
Qualified Walker Smith & Way 1996, Assistant Solicitor at Mace & Jones 1998. Joined Pattinson and Brewer in 2001. Partner from 2005.
Personal:
Long distance runner, cyclist, squash, sailing and musician.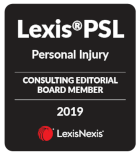 Jane Radcliffe is Managing Partner and Head of Pattinson & Brewer's York office.
A recognised expert in claimant medical accident, and personal injury work, she has a strong commitment to a claimant practice. Jane fights passionately on behalf of all her clients regardless of their type of injury. She recognises that a "minor" injury resulting in two weeks off work can result in as much financial devastation for a low paid worker as six months for someone on full sick pay so "You need to fight their corner just as hard."
Jane has a long personal history acting on behalf of clinical negligence victims, with an emphasis on actions for children, and the Legal 500 acknowledges her 'excellent reputation' in the clinical negligence field.
Under Jane's guidance Pattinson & Brewer's York Office continues to build on a solid reputation for claimant clinical negligence work in the North of England. She is particularly sensitive to the needs of claimants in actions for clinical negligence who already feel badly let down by professionals by the time they meet a solicitor.
She continues to act for claimants (including claims for injuries of the utmost severity and psychiatric injury) and advises on settlements, many in excess of £1 million, Court of Protection matters, structured settlements and cases arising overseas.
Notable cases are:-
Norman -v- Ali & Aziz (CA) – Interpretation of the MIB Uninsured Drivers Agreement and limitation periods for Monk v. Warbey breach of statutory duty claims.
-v- North Yorkshire Health Authority – £3.25 million for claimant suffering cerebral palsy as a result of birth injury.
Rhodes -v- Walton – £1m for child injured in a near drowning incident. Claim brought against individual acting in loco parentis.
Caroline Phelan has over 20 years experience dealing exclusively for Claimants.
Caroline specialises in civil litigation most notably serious personal injury and occupational disease claims. Caroline is currently leading on a multi million pound breach of contract claim involving hundreds of Claimants.
Caroline compliments her practice by acting as a deputy appointed by the Court of Protection for brain damaged children and adults.
Client feedback
" Excellent, well informed and updated at every step of the way. very friendly and very helpful all the time " Mrs S
"Caroline Phelan has given a first class service for which I am grateful. I will miss our chats" Mr H
"Excellent service" Mr M
" It has been very stressful but I found I could speak to you whenever I needed to, you were more like a friend" Mrs J
In her spare time, Caroline is vice Chair of governors in a local school. along with her husband and three children, Caroline is a passionate Welsh rugby fan.
Senior Partner & Head of Personal Injury
Frances McCarthy is head of the Personal Injury Department and the senior partner. She acts exclusively for Claimants; specialising in workplace accidents and occupational disease claims. She also has extensive experience handling injuries of maximum severity, fatalities, asbestos-related claims, clinical negligence cases and other areas of personal injury. Frances has represented victims in most of the major disasters in recent years.
Frances is recognised as a leader in her field in both the Legal 500 and Chambers directories and acknowledged by peers as "robust and tough, but sensible – a fighter and knowledgeable with it." She is highly respected by those she works with and, during her career, Frances has managed successful appeals to the European Court of Justice on the question of equal treatment in matters of social security.
Further independent recognition of Frances's work has also come from two leading international rating services – Super Lawyers, a listing published by Thomson Reuters and Best Lawyers, the eldest peer reviewed listing published in over 65 countries around the world. Their selection processes include independent research, peer nominations and peer evaluations.
She is a joint editor of Jordans' new Personal Injury book, a contributor to the 'Brown Book'Civil Procedure Rules and former editorial board member of the 'Journal for Personal Injury Law'. (JPIL). Experienced trainer of other legal professionals, regular lecturer, broadcaster and active campaigner for law reform which retains access to justice for injured people.
Frances is a member of the working party set up by Lord Woolf for pre-action protocols. She is a past President of the Association of Personal Injury Lawyers (APIL), a former member of the Civil Justice Council; an accredited senior fellow of APIL and a member of Unions 21committee.
Frances and her husband, a journalist, have three boys and she believes this makes her an expert on all matters sporting. She is a keen supporter of Munster in particular and Irish Rugby in general.
Client Comments:
"I wanted to personally thank you for taking over my case and dealing with it in such a friendly and professional manner. It was always a pleasure talking with you…" – Miss W
"… I would like to take this time to thank you for your continued commitment and support over the years. I myself would not have got this far without your continuing fighting for what I was clearly owed" – Mrs S
"…I am really pleased with the services provided by Frances McCarthy. She kept me updated regularly and was always very fair and professional. She took time to explain the legal situation…" – Miss L
Find out more about Frances McCarthy here:
Gary Lightwood is the Managing Partner of Pattinson & Brewer Bristol office. During his career he has specialised in personal injury litigation, clinical negligence and family law. As a personal injury expert he is engaged in all areas of serious accident, disease and injury law and clinical negligence claims and has been an accredited member of the Law Society Personal Injury Panel and of APIL. Gary also heads the firm's specialist motorcycle claims unit. As a Family law specialist Gary deals with the range of matrimonial, family and Child care services.
Gary has worked closely with and represented Police Federation and Trade Union members and private clients for over 20 years. He believes strongly in the work that he does, representing only claimants in his personal injury work and in the right of accident victims to have legal representation, usually against larger organisations, whether their claim is small or large.
Gary is a member of the Bristol Medico-Legal Society, the Bristol Court User Committee and is the Immediate Past President of the Bristol Law Society