Carla graduated from the College of Law, York in 2011 after obtaining a Distinction in the Legal Practice Course. Shortly after this she began her legal career at Pattinson & Brewer, working in our York office.
She initially worked as a Paralegal in the road traffic accident team, before moving to assist in the pre-action clinical negligence team.
Carla started her training contract with the firm in June 2015, and she now assists on a wide range of personal injury and clinical negligence claims of both high and low value.
Carla is motivated by the fact that every client's circumstances are unique, each with differing needs, and that she can offer advice but also provide support and assistance throughout what can sometimes be a difficult and stressful claims process.
From an early age Carla has had a keen interest in musical theatre and dance. She enjoys going to the theatre and teaching dance at the weekends. She keeps fit by going to the gym regularly, and loves spending time with her family and friends.
After completing a degree in Mathematical Sciences, Abbigail joined Pattinson & Brewer in 2002 as a paralegal in the personal injury department.
Abbigail trained with CILEx and qualified as a Chartered Legal Executive in 2008. Since qualifying, she has pursued many personal injury and clinical negligence claims for her clients.
She is committed to securing the best possible outcome for her clients, and prides herself on providing clear and easy to understand advice by avoiding legal jargon.
Abbigail loves to travel, especially when she can combine this with her other two great loves of watching live music and rugby! Her favourite destinations, so far, have been Rome and New York. Abbigail is also a lover of penguins and a collector of anything penguin related! She has taken part in a number of charity runs.
Fiona has been employed within the legal profession since 1987. She has worked in various areas of law however largely personal injury, industrial disease and clinical negligence. Fiona currently works within the clinical negligence team handling new enquiries and dealing with clinical negligence cases during the pre-action stage.
Fiona is motivated and inspired by her family and friends and aims to always look on the bright side of life.
When not at work Fiona listens to music, enjoys dancing and walking the dog.
Practice Areas:
Partner specialising in serious injury work for Claimants. Considerable experience acting in all types of personal injury work including clinical negligence, major catastrophic injury/disability, and notably spinal injuries. Settled spinal case this year for £4.1 million. Particular interest in industrial disease claims, acting for victims of asbestosis and mesothelioma. Reported Court of Appeal cases include Anderson v Newham College of Education on contributory negligence.
Professional Memberships:
The Law Society; APIL Accredited Fellow and Secretary for the Environmental SIG, APIL; PEOPIL; Multidisciplinary Association of Spinal Cord Injury Professionals (MASCIP)
Publications:
JPIL, Hospital Medicine, The Psychiatrist, Contributor to Jordan's APIL Personal Injury Law, Practice and Precedents. College of Law media video: personal injury fatal accident claims. Regular presenter.
Career:
Qualified Walker Smith & Way 1996, Assistant Solicitor at Mace & Jones 1998. Joined Pattinson and Brewer in 2001. Partner from 2005.
Personal:
Long distance runner, cyclist, squash, sailing and musician.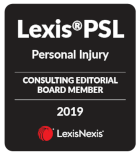 Kirsty joined Pattinson & Brewer's Bristol office in 2000 and began training as a Legal Executive in 2005 whilst continuing to work full time at Pattinson & Brewer. She qualified as a Fellow of the Chartered Institute of Legal Executives in 2011.
Kirsty pursues a wide variety of claims on behalf of the firm's clients, having initially specialised in personal injury and clinical negligence claims, and now also dealing with employment related matters.
Linda heads Pattinson & Brewer's Clinical Negligence team, which works exclusively for claimants. Linda has over 20 years' experience of dealing with a broad range of complex injuries of maximum severity including brain injury, spinal injury and fatal cases. She has extensive medical knowledge. She handles many claims for injured children and adults under a disability and this involves regular contact with the Court of Protection. Linda has particular skill in dealing with people with acquired brain injury such as cerebral palsy, meningitis and cerebral abscess. She has had considerable success with claims involving thrombo-embolic events such as stroke, DVT and coagulation problems.
She has concluded many high value cases including recent settlements of a brain injury case worth £10 million and a spinal injury case for £7.5 million. She has settled numerous cases with damages awards in excess of £1 million. She has also recently been involved in a landmark catastrophic injury case that she successfully took to the Court of Appeal and won. Her clients are impressed by her down to earth nature and commitment to obtaining the best outcome for them. She is well known for her empathetic and insightful approach.
Linda is very highly regarded by experts and counsel alike. She is well recognised within the field and praised by legal peers as "a vastly experienced practitioner with a track record of obtaining substantial settlements for severely injured clients"(Chambers).
Her work has also been independently recognised by a number of leading international rating services. Super Lawyers, a listing published by Thomson Reuters, has this year again ranked Linda in the top 50 female lawyers in London. Best Lawyers, the oldest peer review in the legal profession, has selected Linda for inclusion again in the 2018 edition of Best Lawyers in the United Kingdom in the practice area of clinical negligence. Best Lawyers' peer reviewed listings are now published in over 65 countries around the world. At their 9th annual GLE Awards, Global Law Experts gave Linda the 2018 award for Clinical Negligence Lawyer of the Year (England).
Linda and her team are included on the Headway Head Injury Solicitors List. Headway is a charity which works to improve life after brain injury and Pattinson & Brewer solicitors work within the Headway Personal Injury Lawyers Code of Conduct.
Other professional memberships:
Law Society Clinical Negligence panel member
Law Society Personal Injury panel member
AVMA Clinical Negligence panel member
Spinal Injuries Association panel member
APIL Senior Litigator
Personal:
Linda lives in North West London with her husband who is a GP and her two sons who are a source of support, pleasure and entertainment!
Linda enjoys travelling and particularly likes visiting Spanish speaking countries. She has been taking Spanish language lessons for the last four years and enjoys the challenge of practising on the locals when she is on holiday.  She is often amused when she uses her best Spanish and the reply is in English!
Linda's current goal in her personal life is to learn to cook competently.
Client Comments:
"I would like to take this opportunity to thank you for bringing this matter to a conclusion in a manner which far exceeded my expectations" – Mr D
"I would like to give my heartfelt thanks to you for all the hard work that has been put into my case."- Mr F
"Thank you for all your efforts and the wonderful compensation you achieved on my behalf. Thank you so much."
"I have nothing but good to say about you and your company. Thank you for helping me to achieve such a fantastic settlement."
"Professional and courteous service with the personal touch."
Read more about Linda Levison here:
NHS to pay £10m compensation to girl, 11 – Hospital blunders left her severely disabled
Landmark Settlement Illustrates the Dangers of Birth Outside Fully Equipped Hospitals