Time's Definitely Up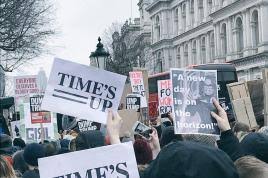 The Time's Up campaign has been described as a "unified call for change from women in entertainment for women everywhere".  The catalyst for the campaign was the string of sexual abuse allegations by high-profile women actors against film producer Harvey Weinstein.  But, it is now a global movement whose fight to end sexual harassment is resonating loudly with women from every industry.
The strength of the campaign is not its message – as brilliant and powerful as that is – but the fact that it represents a collective fight. There have always been those brave individual women who are prepared to bring the fight on their own, taking on their harassers  through employment tribunal litigation.  But even with the  support of a lawyer, family and friends, it can still feel like a solitary fight.
We may be witnessing the beginning of a seismic shift when it comes to the fight against sexual harassment and abuse. Rather than having to rely on the brave few to put their heads above the parapet and express the truth (in one form or another) for the rest of us, the truth now has a collective voice and it is growing louder and louder.
In the meantime we continue to applaud those women that have the courage and determination to bring their cases to the employment tribunal.
That includes actor Helen Haines, whose case was reported in various national newspapers this week. Ms Hains brought complaints of sexual harassment and sex discrimination against various employees, including the Director of the touring theatre company that had engaged her in 2016.
The complaints included being called a 'slut', comments on her breasts and repeatedly being asked if she wanted to have "a threesome".  She was awarded £10,500 in compensation.
Emily Bradshaw from Pattinson & Brewer's Employment & Discrimination Department represented Ms Hains. The judgment is available here.
Commenting on her case Ms Hains said:
"I was forced to resign from my acting job due to sustained sexual harassment and discrimination. I made a formal complaint to my union, Equity. They fully supported my case and set me up with legal support from Pattinson & Brewer.
The perpetrators made me feel humiliated and intimidated. When I informed the company manager of what was happening he showed no sympathy. I was even accused of setting out to manipulate events so that I could sue them!  Hearing my harassers admit their behaviour and winning the case felt like justice."